Keynote Speakers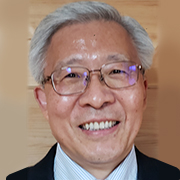 Prof. Yoshihiro Okada
Kyushu University, Japan
Yoshihiro Okada is a Professor of ICER(Innovation Center for Educational Resources), University Library of Kyushu University, Japan. He received his doctorate of Engineering from Hokkaido University, Japan in 1993. After that, he worked as a Research Associate at Department of Electrical Engineering, Faculty of Engineering, Hokkaido University. He was an Associate Professor of Computer Center, Kyushu University, Japan since 1999 and an Associate Professor of Graduate School of Information Science and Electrical Engineering, Kyushu University since April, 2000. He obtained his current position in 2013. He has been a director of ICER since April, 2015 and a vice-director of Cybersecurity center of Kyushu University since 2017. Currently, his research interests include 3D Graphics, HCI, VR/AR, network collaboration, educational material development and cybersecurity.

Educational DX - Activities of e-learning material development by ICER

Abstract: In this speech, he introduces the activities of ICER, the innovation center for educational resources of Kyushu University established in April, 2011. Its mission is to provide teachers and students of the university with e-learning materials using recent ICT like 3D Graphics and XR(VR/AR/MR). So, this speech introduces various educational materials developed by ICER so far, those are a dental treatment training system, a rehabilitation system. a set-up training system for the radiation therapy device and so on. Recently, educational DX has become important keyword and Kyushu University also focuses it. In this speech, he also introduces the recent activities of ICER as Educational DX.